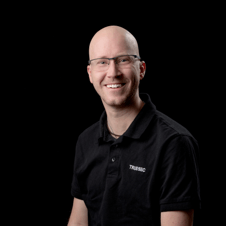 David Lilja
Threat Hunting & Threat Intelligence Expert – Detect & Disarm (SOC)
David's passion is finding threats and collecting intelligence to protect brands and infrastructure environments.

He wants to help our customers to use the right solutions and right level of security. Classified as a classic nerd, he enjoys diving deep into a topic or solution when he finds something interesting.

David is working as a Level 3 Analyst at Truesec, supporting the Level 1 Security Operation Center technicians in their work finding malicious activities in our customers' corporate infrastructures. He also likes to write technical documentation, processes and procedures to keep things in order.
David's main areas of focus are:

Cyber Security Threat Detection
Cyber Security Threat Hunting
Cyber Security Threat Intelligence
He is also certified in Cyber Threat Detection as well as Cyber Threat Intelligence.
David's out of office focus?
"Outside the office, I love to spend time in the nature searching for geocaches with my family. I'd much rather play a boardgame with friends than hang in a bar. Besides that I have a huge affection for electronic sound design and production. I often use a field recorder and process the sound in my music studio. I have a band together with my colleagues Sara and Dennis called Monday Motion. I've been writing music since the early 1990's and have forgot how many live gigs I've performed both on my own or with my best friend."
"I'm a nerd and I've recently tumbled down the really deep rabbit hole of home automation while I'm mainly focusing on monitoring temperatures and my solar panels.
"But spending time in my music studio, surrounded by synthesizers and modular racks, is where I find my zen and this is were I heal my hurts."