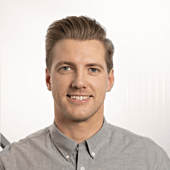 Daniel Edholm
Operations Manager SOC – Detect & Disarm (SOC)
Daniel Edholm is being an enabler with a touch of adrenaline desire. He's Operations Manager of  Truesec´s security operations center 24/7. Monitoring, threat hunting and investigating suspicious behavior. Everything in order to minimize the impact of every attack, which probably is more common than one might think. 
Daniel wants to improve Truesecs delivery to customers. By developing the team members' competence and skills, using "fit for purpose" and "fit for use" technology, in order to improve the delivery and be better in finding suspicious activity. Mission is to provide the best detect and response capacity, not to forward alarms.
He wants to find the potential in every individual in a team and make that potential create a difference together. The fact that people he have the pleasure to work with is curious, highly skilled and challenging inspires him even more.  
Daniel likes to think of him as an enabler. By putting up goals and together with the whole team set a plan for development, he believes that Truesec can achieve great things. Because together, we are strong, and he believe it's important that each person is seen and feel that they can develop and contribute.
Daniel like security and IT in general, he also likes quick progress and can get a bit impatient if he is not challenged in his role. Truesec has proved to be an organization with a high pace where they continuously encourage to challenge each other and there surroundings. 

It's clear to him that Truesec is built on a very strong culture. An environment where everybody will be heard. Where they take advantage of all ideas put together which gives the company incredible capacity! 
Daniels out of office focus? 

"Outside the office I find it very stimulating to explore the area outside my comfort-zone and try new things. That makes me develop on a personal level and I like the energy of the fast learning curve that usually comes with it. "New things" can preferably refer to something involving an adrenaline rush". 
"My comfort zone on the other hand is where I have time for myself where I can reflect, process and learn from the "new things". 
So, my focus when I'm not working is pretty similar to when I work, challenge old habits in order to grow and develop".