Incident Response (CSIRT)
·
Oslo
·
Hybrid Remote
Digital Forensic Incident Responder (DFIR)
Join our mission towards a safe digital future
Vil du være i forkant med å beskytte samfunnet vårt mot cyberangrep? Vi ser etter en Digital Forensic Incident Responder for å jobbe sammen med ett dedikert team av cyberspesialister i vår Incident Response-domene.
Om Truesec – Et ledende cybersikkerhetsselskap
Siden 2005 har Truesec vært et cybersikkerhetsselskap, drevet av ett enkelt mål: Å skape sikkerhet og bærekraft i en digital verden ved å forhindre cyberbrudd og minimere skade.
Gjennom årene har vi opparbeidet oss tillit fra organisasjoner over hele verden og fått et sterkt rykte internasjonalt. Teamet vårt består av spesialister som dekker hele spekteret av cybersikkerhet – med kompetanse innen Forutsigelse, Forebygging, Beskyttelse, besvarelse og Gjenoppretting.
I dag har vi rundt 320 ansatte – og etter hvert som nettkriminaliteten vokser, må vi også vokse. Vi ser derfor etter en Digital Forensic Incident Responder (DFIR) som ønsker å gjøre en forskjell i vår CSIRT.
CSIRT (Cybersecurity Incident Response Team)
Vårt Cybersecurity Incident Response Team (CSIRT) håndterer mange av de store cybersikkerhetshendelsene i Sverige og over hele verden.
Teamet består av eksperter innen etterforskning, avansert infrastruktur og hendelseshåndtering, og jobber utrettelig for å løse de mest utfordrende tekniske situasjoner. Sammen har vi reddet utallige globale organisasjoner fra alvorlige digitale angrep og hjulpet de tillbake med minimale skader.

Rollen
Du vill utgøre en del av vårt globale Incident Response Team. Sammen med resten av teamet jobber du med å bistå organisasjoner som til ulike nivåer er rammet av cyberangrep. Ved å samle data-, minne-, nettverksrelatert informasjon og loggfiler, jobber du med å koble sammen punkter for å gjenskape de aktiviteter som en trusselaktør har utført. Du vil arbeide for å lokalisere mulige bakdører, tegn på dataeksfiltrering eller bevis på annen ondsinnet aktivitet.
Din potensielle bakgrunn
Vi tror at du har bakgrunn fra penetrasjonstesting, red teaming eller bedriftssikkerhet. Du har en grundig, analytisk og organisert tankegang med god forståelse for hvordan et enterprise IT-miljø fungerer og hvordan trusselaktører opererer når de får tilgang. Du som person søker aktivt løsninger og liker å jobbe som en del av et team med medlemmer som samarbeider, hjelper og støtter hverandre.

Nødvendige ferdigheter:
• Analytisk evne
• Skripting og koding
• Enterprise IT-forståelse
• Rapportskriving
Bonusferdigheter:
• Minne- og diskanalyse
• Linux/AWS/Google Cloud
Bli med i vårt oppdrag mot en trygg digital fremtid
Hvis du virkelig ønsker å gjøre en forskjell og gjøre vår verden litt tryggere, er dette stedet for deg. Hos Truesec får du være i forkant med å bekjempe nettkriminalitet i stedet for å lese om det i nyhetene. Dette er din sjanse til å være en del av en spennende reise i et ledende cybersikkerhetsselskap – og lære av noen av de beste innen sitt felt.
Så, er du klar til å slå deg sammen med det beste teamet av eksperter og være en del av et meningsfylt oppdrag? Da gleder vi oss til å bli kjent med deg!
Department

Locations

Oslo

Remote status

Hybrid Remote

Employment type

Full-time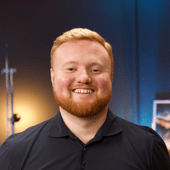 Contact
Hugo Järnland
Senior Talent Acquisition Manager – People and Culture
Why Truesec?
Grow Your Career and Passion

All our employees play an essential part in our mission towards a safe digital future. As your employer, we want to make the most out of your talents. It doesn't matter where you start with us, there are many ways to develop your career. With the right drive and passion, you'll find endless possibilities and get to learn from some of the best in their field.

Technically Independent

We stay true to our core by being technically independent. We only recommend our conclusion of the best possible solution – nothing more, nothing less.

Great Perks

At Truesec, you'll enjoy substantial benefits in combination with the spirit of a scale-up. In addition, you'll have unlimited opportunities to excel professionally and have some great perks while doing the things you love.

Be Part of a Great Journey

Besides preventing cyber attacks and building your career, you will be part of a unique journey and make the world a little bit better and safer each day. You'll be at the frontline fighting cybercrime, instead of reading about them in the news.
Our Truesec Culture
For us, it's not just a job; it's so much more. Truesec is where tech and purpose align, and we work tirelessly every day to help our customers defend their most valuable data assets. We support, challenge, and help each other, and you'll get to learn from some of the best in their field.

At Truesec, you'll have opportunities to excel professionally in a welcoming culture based on trust, expertise, collaboration, and sharing knowledge. If you truly want to make a difference while doing the things you love, this is the place for you.
About Truesec
As a global cybersecurity company, we're proud to be at the forefront of protecting organizations and our society against cyber threats. Our purpose has been clear since day one: Creating safety and sustainability in a digital world by preventing cyber breach and minimizing impact.
We never cease to challenge and reinvent ourselves to stay ahead of cybercriminals and find the best solution for our customers. Over the years, we've earned the trust of organizations worldwide and gained the reputation of a reliable partner. Today, we welcome any collaboration that supports our vision towards a safe digital future.
Incident Response (CSIRT)
·
Oslo
·
Hybrid Remote
Digital Forensic Incident Responder (DFIR)
Join our mission towards a safe digital future
Loading application form
Already working at Truesec?
Let's recruit together and find your next colleague.